Year 5: Blackman and Lewis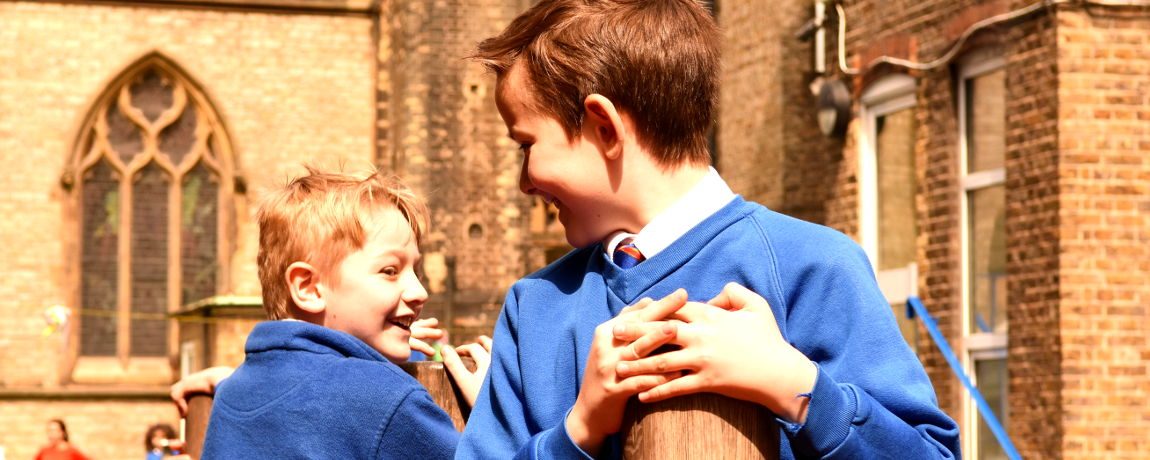 Situated on the top floor of our main Victorian building, our Year 5 classes are named after noted authors, Malorie Blackman and CS Lewis.
In line with the requirements of the National Curriculum for Key Stage 2, Year 5 students are taught core subjects of English (Reading and Writing), Mathematics and Science as well as Foundation subjects of Art, ICT, Design and Technology, Music, History, Geography, PE and Spanish.
The aim is for them to read a wider range of poetry and age appropriate interest level books with confidence. Teachers will continue to emphasise pupils' enjoyment and understanding of language, especially vocabulary, to support their reading and writing. This knowledge of language, gained from stories, plays, poetry, non-fiction and textbooks, will support their increasing fluency as readers, their facility as writers, and their comprehension.
The principal focus of mathematics teaching in Year 5 is to ensure that pupils are able to solve a wider range of increasingly complex properties of numbers and arithmetic, as well as problems requiring efficient written and mental methods of calculation. Reading books are sent home weekly and homework will always contain elements of spelling, writing, Maths and English.
The Year 5 team are always happy to speak to parents regarding any issues, concerns or queries. To apply for a Year 5 place at Burdett-Coutts school, please contact the school office or click here for more information about our Admissions criteria.
Year 5 Curriculum Information: Summer 2019
The subjects that we will be covering in Year 5 this term include:
English: Various genres of writing focussing on grammar, punctuation and spelling (Term 1 – 'Where the forest meets the sea' by Jeannie Baker; Term 2 – 'The Boy in the Girl's bathroom' by Louis Sachar)
Maths: Decimals and Percentage (Term 1) and Geometry (Term 2)
Science: Animals including Humans (Term 1) and Earth & Space (Term 2)
Topic: Rainforests (Term 1) and Mayan Civilization (Term 2)
ICT: Frames 4 – Simple cartoons
R.E: What does it mean to be a Hindu? (Term 1) and How has the Christian message survived for over 2000 years? (Term 2)
HOMEWORK:
Every Thursday, homework will be handed out based on what has been taught in class for the week or what will be taught in the following week. Please, practise quick mental recall of times tables and reading every day. Make sure your child does the assignments from Mathletics Platform as it is a fun and entertaining way to consolidate Maths concepts taught in class.
P.E. KITS
We will have our PE lessons on Tuesday and Friday. Please ensure your child comes to school with the appropriate kit. Ideally, children should have their kits in school every day, in case lessons have to be swapped around.
SWIMMING LESSONS
We will be attending swimming lessons on a weekly basis. Swimming lessons will take place on a Monday at 11am. Please ensure your child has their swimming costume, a towel and a swimming hat each week. It is very important that they bring their swimming hats. If they do not have their hat then the pool have stated that they will not be allowed to participate in that lesson.
Year 5 Diary Dates: Summer 2019
Blackman Class Assembly: 2nd November
Parents' Evening: 22nd November
Year 5 team:
Class teacher:
Support staff:
Other key roles:
SENco:
Designated Child Protection & Safeguarding Officer:
Deputy Designated Child Protection & Safeguarding Officer:
Family Support Worker: