Welcome Back: Our September News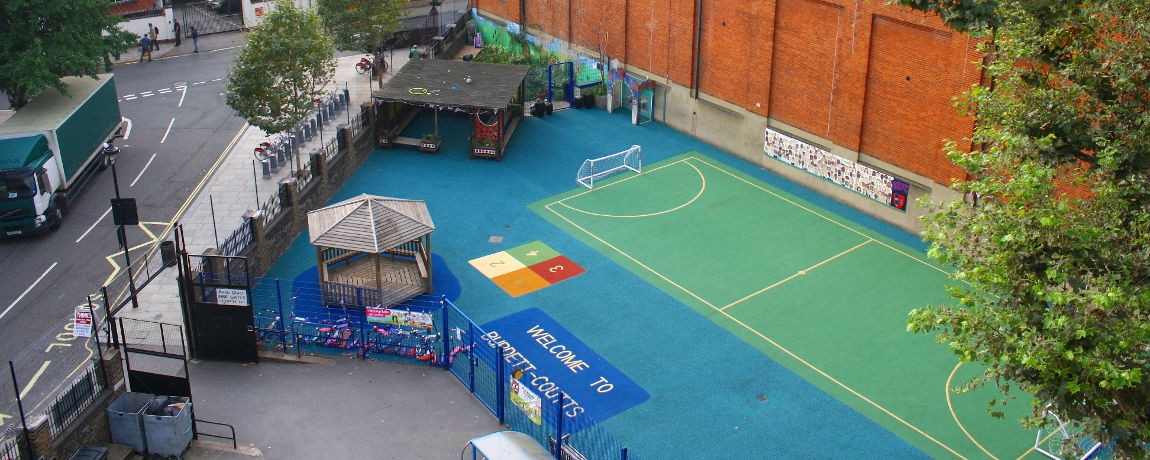 Educating the mind without educating the heart, is no education at all."

Aristotle
Welcome back to all our pupils, parents & carers, staff and governors! It has been lovely to come back after the summer break and see everyone looking so rested and to hear everyone's holiday news.
The children have settled in so quickly and are enjoying getting to know their new teachers and class staff. The school has also enjoyed its own restoration with a lot of work done during the summer holidays to make the facilities better for everyone. One major improvement has been the refurbishment of the school playground – isn't it just fantastic?
We are so grateful that as a result of a grant from the 'Angela Burdett-Coutts Trustees' and your donations to our parents-school association 'The Friends of Burdett-Coutts', together we have raised the funds for our new colourful safety surfaces in the main and Early Years playgrounds.
A huge thank you must go to Mr Peter Barney, our hard working site manager, who helped to organise the cleaning and repairs to our school site. 
Even though it seems like we've only just started the academic year, there has been so much going on already!
On Wednesday, the 21st of September, pupils and staff at our school marked the United Nations World Day of Peace on International Peace Day. Both staff and pupils came to school wearing white and took part in a number of activities where they learned about the importance of peace and the lives of peacemakers of the past and present.
Collective worship was held in St Stephen's where the story of Jesus calming the storm and amazing his followers by bringing peace was recounted. Pupils were challenged to look for peacemakers amongst their class and were given 'Peace Passes' to pass on the peace. Year 2 Browne class were so busy being peaceful they ran out of passes!
And in commemoration of this special day, the whole school – staff and children – came together in forming the shape of a heart.
On Thursday the 22nd of September, parents were invited to a Inspire Maths workshop designed to showcase the school's approach to teaching Maths. We consider parental involvement an integral part of ensuring every child's progress and sense of well being and that good links with parents are essential to improve our pupils' enjoyment of school and consequently their chances of doing well.
The more parents know about what their children are learning, the more they can offer targeted support at home to complement what the school is doing. Our school is committed to working in partnership with parents in order to develop every child's true potential and have organised workshops in support.
Thank you to all the parents who made the time and effort to attend these workshops. Your input and participation is very appreciated and we hope that you have been able to take away useful tips from this.
There will be another Inspire Maths workshop for Key Stage 1 parents and carers on Thursday the 3rd of November 2016.
On Friday 23rd of September, the children wore jeans and donated £1 for the Jeans for Genes charity, to help Genetic Disorders UK, the national charity dedicated to supporting thousands of children affected by a genetic disorder.
While individual genetic disorders are rare, it is thought that there are currently more than 6,000 diagnosed disorders and new disorders are being identified every day. It is estimated that 1 in 25 children is affected by a genetic disorder. This means that in the UK, 30,000 babies and children are newly diagnosed each year and more than half a million children and adults are living with a genetic disorder.
Genetic Disorders UK is a registered charity with a vision to improve the lives of individuals and families affected by genetic disorders. The charity provides vital support, equipment as well as the chance for those affected by a genetic disorder to meet others affected by the same condition.
Thank you to everyone who helped us to raise money for Jeans For Genes – together we raised £228.85!