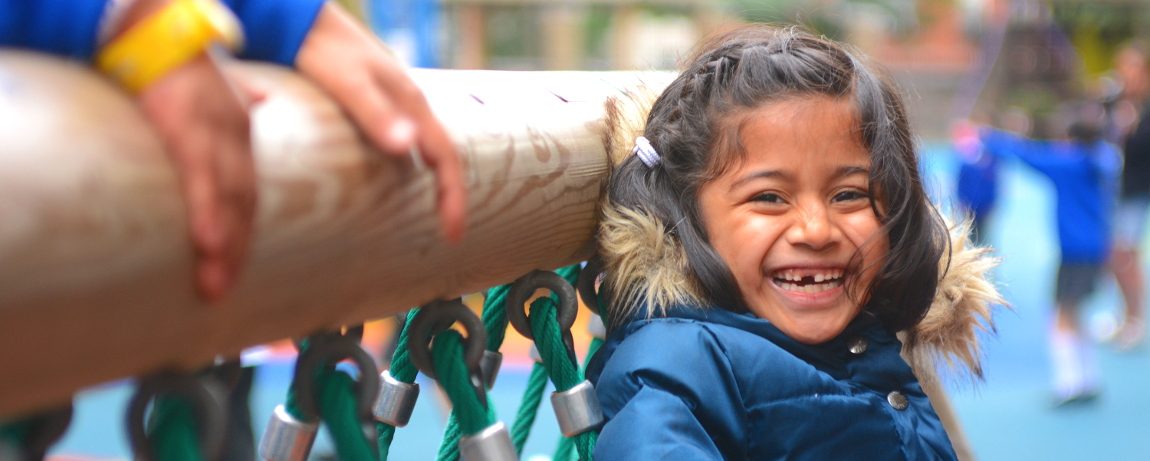 Our Classes
We are a one to two form entry school, with the capacity for two classes per year group from Nursery through to Year 6.
The school's main building is a 3 story Victorian stone building which has been internally modernised and refurbished over the years to accommodate the school's needs. Classes from Reception through to Year 6, as well as the school's offices, the Learning Zone, the Ground Floor Hall, the First Floor Hall, a kitchen and a roof garden are situated within this building, which also offers direct access to the large outdoor playground.
The section of the building housing the Reception & Nursery classes was recently renovated and modernised in 2012 to include an upstairs classroom, a large, bright and airy open-plan downstairs classroom, dedicated toilet and shower facilities for the children, a secure outdoor playground and a wide variety of multi-sensory play areas.
Children are taught reading, writing and/or Maths in the morning with other foundation subject lessons (Geography, History, Science, Art, Religious Education, Information and Communications Technology (ICT), Physical Education, Personal, Social, Citizenship & Health Education (PSCHE), and Design & Technology) taught in the afternoon. Every class has a dedicated reading corner and white board facilities with a maximum of 28 children in each class.
Class Authors
Our classes are named after noted children's authors to reflect our whole school approach towards encouraging a love of reading in pupils of all ages.
Eric Carle
Eric Carle is acclaimed and beloved as the creator of brilliantly illustrated and innovatively designed picture books for very young children. Eric Carle's art is distinctive and is created in collage technique, using hand-painted papers, which he cuts and layers to form bright and cheerful images.
He is the author of The Very Hungry Caterpillar, The Grouchy Ladybug, Brown Bear, Brown Bear, What Do you See? and up to 40 other works. His most famous work, The Very Hungry Caterpillar has been translated into more than 58 languages and sold more than 38 million copies.
Oliver Jeffers
Oliver Jeffers is an artist, illustrator and writer from Belfast, Northern Ireland and is widely known for his picture books for children. He has won many awards for his books and in 2007, was the official World Book Day illustrator. He is the author of How to Catch a Star, Lost and Found, The Incredible Book Eating Boy, The Day the Crayons Quit and many others.
Maurice Sendak
Maurice Sendak is a multi-award winning American illustrator and writer of children's books, His most famous work, Where the Wild Things Are was originally titled Where the Wild Horses Are and was intended to feature horses. But Sendak couldn't draw horses and drew 'things' instead.
He has also written other books like Outside Over There, In the Night Kitchen and countless others. Where the Wild Things Are has been adapted into an animated short, an opera, a live action feature film and as a book, has sold over 19 million copies worldwide.
John Burningham
John Burningham is an English author and illustrator of Borka: The Adventures of a Goose with No Feathers, Mr Gumpy's Outing and many other noted quirky, delightful and original works. He is regarded as one of the world's most talented picture-book makers and was a finalist in 2012 and 2014 for the biennial, international Hans Christian Anderson Awards, the highest recognition available to creators of children's books.
Julia Donaldson
Julia Donaldson MBE is a British writer, playwright and performer and the 2011-2013 Children's Laureate. She is best known for her popular rhyming stories for children, which include The Gruffalo, Room on the Broom, The Stick Man and many others. She has published over 184 works including 120 intended for school use. The Gruffalo has been translated into more than 40 languages, sold over 10 million copies and has been made into stage and screen productions.
Anthony Browne
Internationally acclaimed Anthony Browne is a British writer and illustrator of children's books, with nearly forty titles to his name. From 2009 to 2011, he was Children's Laureate and became the first UK children's author since 1956 to win the biennial, international Hans Christian Andersen Award in 2000, the highest honour in children's literature.
His titles include Gorilla, A Walk in the Park, My Dad, Willy the Wizard and many others. Browne's books are translated into 26 languages and his illustrations have been exhibited all over the world.
Anne Fine
Anne Fine, OBE FRSL, is a British writer who has written more than fifty children's books and was Children's Laureate from 2001 to 2003. Her works include, Madame Doubtfire (which was made into the movie Mrs Doubtfire, starring Robin Williams), Goggle-Eyes, Flour Babies, The Diary of a Killer Cat and many others. She has won countless awards and her work has been translated into over 40 languages.
Cressida Cowell
Cressida Cowell is the author and illustrator of the internationally bestselling How to Train Your Dragon series, which is published in 37 languages. She grew up in London and on a small, uninhabited island off the west coast of Scotland. She was convinced that there were dragons living on this island, and has been fascinated by dragons ever since.
How to Train Your Dragon is a major DreamWorks Animation feature film series; the second film was released in Summer 2014. An animated How to Train Your Dragon TV series, Riders of Berk, airs on Cartoon Network. Also the author of picture books, Cressida won the Nestle Children's Book Prize in 2006 and she is proud to be an Ambassador for the National Literacy Trust. Check out Cressida's Hiccup website here: www.howtotrainyourdragonbooks.com.
Dick King-Smith
Ronald Gordon King-Smith OBE, Hon. MEd was better known as Dick King-Smith and wrote over a hundred children's novels and picture books. His most famous work is The Sheep-Pig, which was has been translated into 15 languages and adapted into the Oscar-winning movie, Babe. He spent 20 years working as a farmer before he became a teacher at Farmborough Primary School and an author. His farming years were the inspiration for many of his books and pigs were his favourite animal.
Eoin Colfer
Irish author Eoin Colfer was a primary school teacher before becoming a full time writer. He attained worldwide recognition in 2001, when the first Artemis Fowl book became a New York Times Best Seller, along with others in this science fantasy series. He has also published other award winning bestsellers including The Wish List, Airman, Benny and Omar and has sold over 10 million books in the United States alone.
JK Rowling
Joanne 'Jo' Rowling is better known as JK Rowling. She is the British novelist behind the Harry Potter fantasy series which has won multiple awards, sold more than 400 million copies and has been the basis for a series of films which became the highest grossing film series in history. She has received honorary degrees from 6 universities and in 2012, was awarded the Freedom of the City of London.
Malorie Blackman
Malorie Blackman OBE is a British writer who holds the position of Children's Laureate for 2013 to 2015. Using science fiction to explore social and ethical issues, she has written over 50 books and is acknowledged as one of today's most imaginative and convincing writers for young readers. She has been awarded numerous prizes for her work such as the Noughts & Crosses series, Hacker, Pig-Heart Boy, A.N.T.I.D.O.T.E and Thief!
CS Lewis
CS Lewis was an Irish novelist and poet best known for his fictional work The Chronicles of Narnia, which is considered a classic of children's literature. A close friend of fellow novelist JRR Tolkien, his works have been translated into more than 30 languages and have sold millions of copies. The books that make up The Chronicles of Narnia have been popularised on stage, TV, radio and cinema and in 2013, on the 50th anniversary of his death, he was recognised at Poet's Corner in Westminster Abbey.
Michael Morpurgo
Michael Morpurgo OBE, FRSL, FKC is an English author, poet and playwright best known for his children's novels such as War Horse, Kensuke's Kingdom, The Butterfly Lion and many more. His first job was as a primary school teacher and while teaching, he discovered his talent for story-telling. He was Children's Laureate from 2003 to 2005 and has won many awards for his books. His enduring novel War Horse has been adapted into a stage play, realised as a film nominated for six Academy Awards and has sold over one million copies.
Philip Pullman
Philip Pullman CBE, FRSL is the British author of several best-selling books, most notably for children, the fantasy trilogy His Dark Materials. Consisting of The Golden Compass (Northern Lights in the UK), The Subtle Knife and The Amber Spyglass, the trilogy has won numerous awards and was named Whitbread Book Of the Year 2001. The Golden Compass has been adapted as an acclaimed stage play, released as a feature film and he has sold over 15 million copies of his books worldwide.